Mr. Grubbs
Use: Teaches you how to summon and dismiss this companion.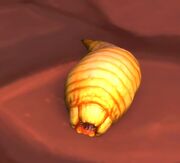 Source
Found within
 [Hidden Stash] gained by having Fiona's buff while in Eastern Plaguelands.
Pet Journal
The grubs of the Plaguelands are a side effect of necromantic corruption and the massive number of corpses there. Mr. Grubbs is from a particularly acrobatic breed.
Battles
Notes
Mr. Grubbs does a flip on occasion.
Tactics
You need to start with Fiona, located in Eastern Plaguelands, up until you can receive Fiona's Lucky Charm. This is a buff that you need in order to obtain the pet.
DO NOT BE FOOLED! Before you accept the buff it tells you that it increases the gold dropped from mobs but in reality this allows Hidden Stashes to drop off of Cultists, Undead, Ghouls, Undead Trolls among other mobs in the zone (pretty much any mob actually).
Mr. Grubbs is dropped from the Hidden Stashes, so the best place we have found to farm for the stashes is in Zul'Mashar. This is in northern Eastern Plaguelands very north of Light's Hope Chapel.
Patch changes
External links
Battle pet types
Beast battle pets

Archetype of Cunning

Archetype of Discovery

Archetype of Predation

Bloodfeaster Spiderling

Blushing Spiderling

Copperfur Kit

Corpulent Bonetusk

Goldenpaw Kit

Green Viperid

King Viperid

Momma Vombata

Mr. Grubbs

Red Viperid

Rosetipped Spiderling

Ruby Baubleworm

Rustfur Kit

Sable

Tarachnid Ambusher

Tarachnid Stalker

Topaz Baubleworm

Tunneling Vombata

Turquoise Baubleworm

Verdant Kit

Viperid Menace

Vombata Pup