Mu'sha's Tears
"The liquid flows of its own accord."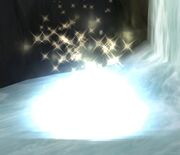 Mu'sha's Tears are located at the bottom of the waterfall north of Thunder Totem, far below the bridge to the Crystal Fissure.
Ebonhorn uses them to represent the element of water in a ritual to see the War of the Ancients.
As a quest objective
Notes
Patch changes
External links