Mulgore Hatchling
Use: Teaches you how to summon this companion.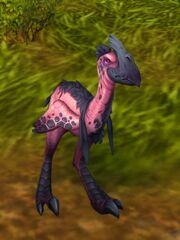 Mulgore Hatchling is sold by the Argent Tournament vendor

 Doru Thunderhorn <Thunder Bluff Quartermaster> in Icecrown for 40

. It can only purchased by a player who is a

 [Champion of Thunder Bluff].
It can also be listed on the Black Market Auction House by Breanni, with the opening bid of 1,000

.
Pet Journal
A tallstrider's speed on open ground is unrivaled, so predators rely on stealth and pack tactics when hunting them.
Battles
Notes
It is not Bind on Pickup and can therefore be traded with other players including those of the opposing faction.
This pet will occasionally sprint away, kicking up dust behind it.
Patch changes
External links
Battle pet types
Critter battle pets

Archetype of Multiplicity

Archetype of Survival

Archetype of Multiplicity

Ashen Chomper

Bloodlouse Larva

Corpselouse Larva

Decaying Mawrat

Decay Grub

Deepwood Leaper

Emerald Scarabid

Feasting Larva

Fierce Scarabid

Frenzied Mawrat

Hissing Deathroach

Leaping Leporid

Metallic Scarabid

Mulgore Hatchling

Plaguelouse Larva

Shelly

Timid Leporid

Tower Deathroach

Undying Deathroach