Mulgore storyline
Mulgore is a level 1—10 zone for Horde players. Players travel through the zone, battling the Quilboar and completing the Rites of the Earthmother to become true Tauren Braves.
Red Cloud Mesa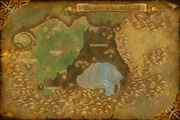 This is the starting experience for new tauren characters. Players are immediately thrust into battle against the Quilboar who are mere days away from taking Camp Narache. Working with Grull Hawkwind and Adana Thunderhorn, players slay Quilboar, rescue Tauren captives, return stolen weapons and prevent the Quilboar from using a special weapon, the Battleboars, among other things. On the way players complete their Rite of Strength by slaying Quilboar, their Rite of Courage by recovering stolen rifles and their Rite of Honor by slaying Chief Squealer Thornmantle. The Red Cloud Mesa ends with the quest

 [1-10] Rite of the Winds which transports players to Bloodhoof Village.
Bloodhoof Village
In Bloodhoof Village there are numerous quests that players can complete to help the Tauren of that village before beginning the main quest line for Mulgore. In this quest line the sacred wells of Mulgore have been poisoned by the nefarious Grimtotem tribe. Under the direction of Ahmo Thunderhorn, players gather the necessary materials to create totems and then use those totems to cleanse the wells of the corruption - beating back the Grimtotem Tauren who try to prevent that. After cleansing both the Winterhoof well and the Thunderhorn well, players are sent onward to Camp Sungraze via the Rite of Vision to cleanse the final well. A side quest line has players fighting against the Goblins of the Venture Co. who are trying to drive the Tauren from the land so that they can use it for profit.
Morin Cloudstalker questline:
Grimtotem questline (Tauren only):
Camp Sungraze
Continuing with the main Mulgore quest line, players cleanse the final well - the Wildmane well - and then travel to Thunder Bluff to tell Baine Bloodhoof of what has transpired. Enraged, Baine orders all Grimtotem expelled from Mulgore and he personally slays Orno Grimtotem, leader of the Grimtotem. There are a couple of other side quests in Camp Sungraze, including one which clears the Quillboar out from the sacred Red Rocks burial ground. After completing all quests, players can complete the final Rite of the Earth Mother, the



 [10] Rite of Wisdom. Finally the quest



 [12] Walk With The Earth Mother brings players onwards to Orgrimmar.
 [10] 

A Sacred Burial

 [10] 

The Hunter's Way

  [10] 

Rite of Wisdom

(after completing   [7] 

Rite of Vision

)
Grimtotem questline (Tauren only):
Full Quest List
Camp Narache
Mulgore