Not to be confused with Mur'gul.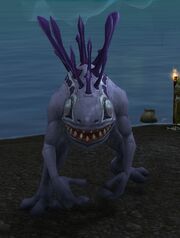 Mur'ghoul are undead murlocs.[1] The only known group of mur'ghoul are found at the Howling Fjord's western Chillmere Coast and are the result of Chillmere murlocs being transformed into "the walking dead" by the Scourge necrolords.[2]
Notable
Types
Notes
A group of Grimscale murlocs dwelling on the western coast of the Ghostlands were turned into undead by the plague, but like the Forsaken and unlike the mur'ghoul, they have mysteriously retained their free will in undeath.[3]
Gallery
References
^  [30-35 Daily] 

A Timeless Question

^  [1-30] 

The Plagued Coast
Creature group
Undead creatures