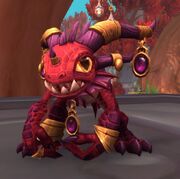 Murkastrasza is the murloc companion obtained from Dragonflight's Collector's Edition, Epic Edition or Heroic Edition. It is modeled after Alexstrasza.
Pet Journal
Hatch-queen of the baby murlocs, Murkastrasza spent many years battling her bitter rival, Deathy.
Battle
Dragonkin: Deals 50% additional damage on the next round after bringing a target's health below 50%.
Notes
Despite their rivalry, Murkastrasza and Deathy do not have any interactions with each other.
Responds to /dance
Patch changes
External links
Battle pet types
Dragonkin battle pets