"Murkablo" redirects here. For the achievement, see  

[

Murkablo

]

.
Murky's Little Soulstone
Use: Teaches you how to summon this companion.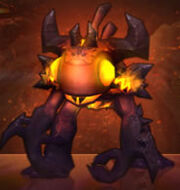 Murkablo is a companion that was given out to attendees of BlizzCon 2011, purchasers of the DirecTV pay-per-view of the event, and purchasers of the internet streamed video of the event. Murkablo is the fearsome-ish, aquatic protégé of Diablo III's eponymous Lord of Terror.[1]
Murkablo is delivered by in-game mail to every character on a player's Battle.net account that has been attached to a Murkablo code, much like collector's edition companions. He will occasionally breathe fire, sometimes leaping into the air to do so.
Pet Journal
When you're confronting Murkablo or any of the Prime Murlocs, possession of a soulstone is strongly advised.
Battles
Humanoid: Recovers 4% of their maximum health if they dealt damage this round.
Description
Players are mailed this pet by Master Handler Sylvester:
Blizzcon 2011
Thank you for your attending Blizzcon 2011!
As a special gift of appreciation, we would like to present you with Murky's Little Soulstone.
May Murkablo lead you to new adventures across the face of Azeroth and beyond!
Trivia
Patch changes
References
External links
Battle pet types
Humanoid battle pets

Dal

Lightless Tormentor

Lost Featherling

Murkablo

Rook

Ruffle

Spriggan Trickster

Steward Featherling

Winterleaf Spriggan