m

Line 1:
Line 1:
 
+

{{For|lore|Murloc huntsman}}

 
+

{{For|the Warcraft III creep|Murloc Huntsman}}

 

{{Warcraft III}}

 

{{Warcraft III}}

 

[[Image:MurlocHuntsman.jpg|thumb|Murloc Huntsman]]

 

[[Image:MurlocHuntsman.jpg|thumb|Murloc Huntsman]]
---
Revision as of 19:41, 13 July 2009
For lore, see Murloc huntsman.
For the Warcraft III creep, see Murloc Huntsman.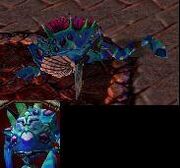 Murloc Huntsmen are heavy-ranged ground units of the murloc forces in the Frozen Throne campaign called Exodus of the Horde. They are produced at the Murloc Hut.
300 HP
16-22 normal ranged damage with a Huntress' glaive.
2 medium armor
can use ensnare like an Orc Raider.