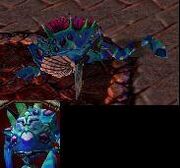 The Murloc Flesheater is a heavy ranged ground unit of the Murloc forces in the Frozen Throne Campaign called Exodus of the Horde made by Blizzard. It is produced at the Murloc Hut.
300 HP
16-22 normal ranged damage with a Huntress' glaive.
2 medium armor
can use ensnare like an Orc Raider.