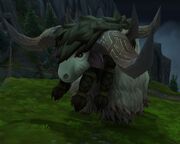 Musken (or runehorn) are large, yak-like bovines native to Stormheim. They have three pairs of horns and braids similar to those of male vrykul. Their fur is incredibly thick and broom-like.[1] They mostly use their horns for defense, however some use their tough hooves.
Notable
Types
As a hunter pet
Main article: Oxen
Musken are tamable by hunters as part of the Oxen family, along with yaks and shoveltusks.
As a companion pet
Trivia
The name "musken" is most likely inspired by the muskox, a large, ox-like mammal with thick fur and prominent horns mostly found in areas north of the Arctic Circle.
References
Creature group
Beast creatures

 

Arthropod

Arachnid
Crustacean
Insect

 

Mammal

Carnivoran
Ungulate

Bovids
Camelids
Cetaceans
Proboscids
Swine