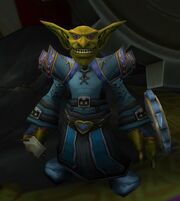 Mux Manascrambler is a goblin located in Gadgetzan in Tanaris. He can be found in a house in the center of the city, behind Driz Plunkbow and his Butcherbots.
He was present during the Legion Invasions.
Quests
Quotes
Gossip
Greetings, friend! Can I interest you in some ectoplasmic capacitors? Or perhaps a nice omni-directional spectral assimilator?
During Legion invasion

I appreciate the words, <name>, but I'll be back when this blows over.
Notes
Patch changes
See also
External links
| Tanaris | Legion Invasion | 7.2.0 PTR |
| --- | --- | --- |
| | | |