For the mob, see Naga Brute.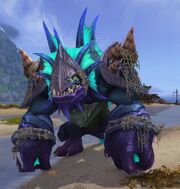 Naga brutes[2][3] (also known as behemoths[4] and hulks)[5] are huge, mutated naga used as heavy fighters and even as siege weapons by the naga army. Some have rank, while some act more like mere beasts. No explanation for their origins have been given.
It is known that naga brutes have the ability to speak, such as many Sashj'tar naga brutes in Azuregale Bay in Suramar. One, in particular, is Har'kess the Insatiable.
Archmage Khadgar, aside from calling them "brutes", also referred to them as "bruisers".[6]
Known
Named
Unnamed
Notes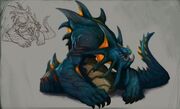 Concept art (see right) of naga brutes shows that they were originally envisioned to more closely resemble regular naga before being changed to have legs, shorter tails, and multiple additional eyes.
Gallery
See also
References