Background
He was a hierophant[3] of the Argus Wake, a mysterious organization with close ties to the Shadow Council that was manipulating the Syndicate. Nagaz positioned himself close to the Syndicate's leader Lord Aliden Perenolde and was found in Dandred's Fold in the Alterac Mountains.
Magistrate Henry Maleb was once after Nagaz's head.
At some point Tyranis Malem became one of his disciples.
Legion

This section concerns content related to Legion.
With the return of the Burning Legion, Gul'dan called upon the surviving leaders of the Shadow Council's sects: Jergosh the Invoker, Nagaz, and Allaris Narassin. Allaris and Nagaz, along with Nagaz's apprentice Tyranis, traveled to Tol Barad to retrieve the Eye of Dalaran. After Tyranis fell prey to a trap, Allaris and Nagaz were joined by a warlock adventurer with the Book of Medivh who offered assistance in locating the Eye. Nagaz led the adventurer into one of Tol Barad's cells, then attempted to kill them and take the Book of Medivh to Gul'dan himself. The adventurer killed Nagaz for his betrayal.[4]
Abilities
  Bladestorm — Attacks in a whirl of steel, causing 60% weapon damage to each enemy within melee range. 
  Cleave — Cleave the target and all nearby enemies, dealing 100% weapon damage. 
Objective of

The subject of this section was removed from World of Warcraft in patch 4.0.3a but is present in Classic.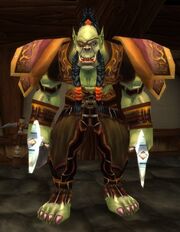 Quotes
Main article: An Eye for a Scepter#Notes
Patch changes
See also
References
External links