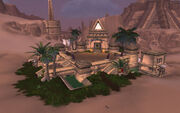 Nahom is a small temple southeast of Ramkahen in Uldum.[67, 42]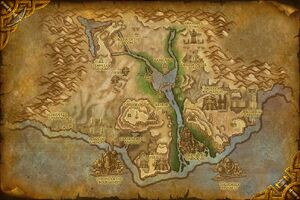 Sun Prophet Tumet and the Nahom Sun Priests watch over this temple and the Tombs of the Precursors usually with little defenses. As the order is given to assault Neferset City to the west, a regiment of Ramkahen soldiers were sent here to help protect it for when the Neferset attack from the east. This regiment, which Salhet was apart of, was ambushed on the way here and their captain killed, leaving Salhet in command.
There is an old story about Nahom. It speaks of how a powerful prophet named Atulhet held off troves of enemies by channeling the power of the sun through this very temple.[1] It's discovered through ancient relics that Atulhet built a potent weapon into the temple, but it can only be accessed through the right cypher.[2] Which is being held by Raider Lord Havat, commander of the Neferset looters in the area.
Patch changes
References
^  [30-35] 

The Secret of Nahom

^  [30-35] 

The Cypher of Keset
External links