The subject of this article or section is part of the Lunar Festival
, a
seasonal event
that lasts several weeks. Once the event has run its course, this will no longer be available until next year, but there are no guarantees.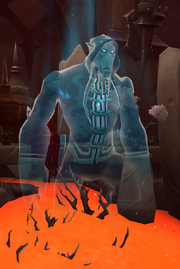 Naladu is a Broken quest giver located at Ruins of Sha'naar in Hellfire Peninsula. It seems he is the betrayer that sold out his tribe to the Illidari, but now seeks to free the remainder of the tribe so he may die in peace.
At an unknown point in time, Naladu died and was subsequently sent to the afterlife of Revendreth to atone for his crimes. During the Lunar Festival, his soul can be found at Sinfall during some of the Ember Courts, appearing as Elder Naladu. On his back, he carries a sinstone.
Quests

This section concerns content related to Shadowlands.
 [60 Daily] 

Naladu the Elder
Quotes
Gossip
The Illidari demons keep me here because of my knowledge of ancient draenei crystals and relics.
They've enslaved many of my people and use us to look for a powerful crystal... one that in all likelihood is not even here.

 Why don't you escape?
What for? If Illidan's demons don't catch me and enslave me again, then the naga of Zangarmarsh will.
Joining Illidan and his allies has turned out to mean nothing but slavery to most of the Broken tribes. There is no hope for my people.
Patch changes
See also
External links