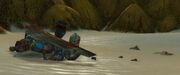 Narain Soothfancy is a gnome quest giver and 'master soothsayer' residing at Bootlegger Outpost. He is an old acquaintance of the blue dragon Azuregos, who frankly states that he's a "terrible, terrible psychic but an amazing engineer".
Although his home near Steamwheedle Port survived the Cataclysm, he has left that spot and set up shop at Bootlegger Outpost. However, he did not bring O'Reily along.
He was critically wounded during the Legion invasion of Tanaris, but an adventurer saved his life.
Quests
 [15-30] 

Gazer Tag

 [15-30] 

Land's End
Before Cataclysm
Before the Shattering, he was just north of Steamwheedle Port in Tanaris[65.3, 18.6]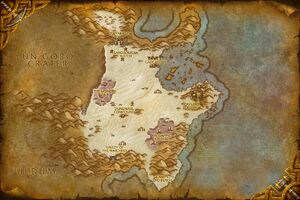 . He was the main quest giver for the
 [Blue Scepter Shard] fork of

 [The Scepter of the Shifting Sands] quest chain.
He was rescued by

 Meridith the Mermaiden some time ago, when his flying machine crashed near Land's End Beach. She has since fallen in unrequited love with him.
 [60] 

Love Song for Narain

 [60] 

Azuregos's Magical Ledger

 [60] 

Draconic for Dummies

 [60] 

rAnS0m

 [60G] 

Decoy!

 [60R] 

The Only Prescription

 [60] 

Stewvul, Ex-B.F.F.

(Some quests in between not involving Narain)
After all the above are complete:
Quotes
"<Narain holds an unopened envelope to his forehead.> What is... Mmmm... Velvet! Am I right?"
"Narain Soothfancy, at your service! Retired engineer and master soothsayer! I can tell your future before it even happens!"
"Don't tell me! Shhh! You are here about the Ashbringer?!? Yes ... Yes ... No! My bad. What can I help you with, <race>?"
"If you're here to try and relearn a tradeskill, use the book over there... <Narain points to "Soothsaying for Dummies.">"
Legion Invasion

It got cold, then I blacked out! What's going on around here?
Trivia
After he has spoken about tradeskills, it says that he points over to a book called "Soothsaying for Dummies" which is a reference to the "For Dummies" series, as is the "Draconic for Dummies" book involved in the quest chain.
The quote above concerning the envelope--as well as his headgear--is a reference to Johnny Carson's Carnac the Magnificent routine on The Tonight Show.
Patch changes
See also
External links