Naxxramas (TCG)
| | |
| --- | --- |
| | Compare this article to the one on Molten Core (TCG), and change either article for desired consistency. |
For the location, see Naxxramas.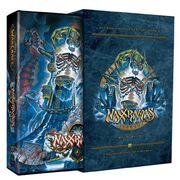 Naxxramas is the 5th raid deck for the World of Warcraft Trading Card Game. It was released on December 22, 2009.
Gallery
Standard Sets

Heroes of Azeroth Block
March of the Legion Block
Drums of War Block
Scourgewar Block
Worldbreaker Block
Aftermath Block
Timewalkers Block

Dungeon & Raid Decks
Preconstructed Decks
Collector's Sets
Promos
Treasures
Misc.