The subject of this article or section is part of Hallow's End
, a
seasonal event
that lasts two weeks. Once the event has run its course, this will no longer be available until next year, but there are no guarantees.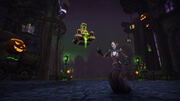 Naxxy is a companion modeled after the famed necropolis of Naxxramas.
Source
This item is purchased from

 Pippi <Pet Vendor> and

 Woim <Pet Vendor> for 150

.
Pet Journal
It's just constantly barfing plague fluid. Where does it come from? Where does it go?
Battles
Undead: Returns to life immortal for one round when killed, but deals 25% less damage.
Patch changes
Patch 7.3.0 (2017-08-29): Purchasable item added, now available for players.

Patch 7.2.0 (2017-03-28): Companion added.

External links
Battle pet types
Undead battle pets

Backbone

Carpal

Clutch

Lost Soul

Maw Crawler

Micromancer

Mu'dud

Naxxy

Severs

Spinebug

Toenail

Torghast Lurker

Writhing Spine