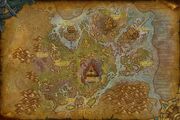 The Nazmir storyline takes part in eight chapters, tracked by the achievement

 [The Dark Heart of Nazmir]. The stories of this zone are themed around the blood troll threat, and the Talanji's Expedition effort to recruit the local loa's help (Bwonsamdi, Torga, and Krag'wa).
Main storyline
Deep in the Swamp
Anticipating a blood troll assault in Zuldazar, Princess Talanji sends Horde champions to Nazmir to deal with the threat that these trolls represent to Zandalar Empire. Rokhan and other Darkspear trolls also team up with Zandalari trolls to form a expedition to the swamps. In the nothren border of Zuldazar the Horde champion is sent to battle against blood trolls and to burn down zandalari corpses with a

 [Ceremonial Torch] (blessed by Bwonsamdi's priests). Eventually, the Horde champion and Talanji face Grand Ma'da Ateena, and hear about the blood trolls pact with G'huun. Following her steps, they discover that the blood trolls are empowering a construct in the center of Nazmir: the Heart of Darkness.
A Pact with Death
Undercover Sista
Turtle Power
A Friend of the Frogs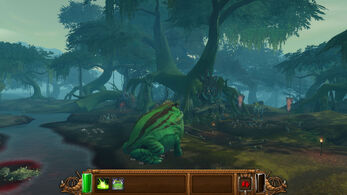 In this chain, the player is sent to a recently established Horde camp in Nazmir: the Gloom Hollow. According to Kisha, this place was used as the last stop by the tortollan in their pilgrimage. She also asks the adventurer to recruit more tortollans along the way to meet up at that point. Afterward, Shadow Hunter Mutumba requests aid in the investigation of Frogmarsh, and Witch Doctor Zentimo is eventually found injured by blood trolls there. The player is then sent to recover Krag'wa idols in the area, and to kill the local blood troll leader: Warmother Boatema. The player then meets Krag'wa in his burrow, and the frog loa requests the Horde champion to perform the Rite of Krag'wa with Zentimo's body. In this ritual, the witch doctor's spirit is released, and many frogs come out of his body. After feeding Krag'wa with local meat, the Horde champion gathers local glowflies to the frog loa. The loa uses the flies' magical essence to draw stored power in his totems and then becomes powerful enough to attack the blood troll camp nearby. At the end of this questline, To Serve Krag'wa's quest becomes available.
Bring the Boom
Everything Contained
Bleeding the Blood Trolls
Side quests
Krag'wa's Burrow and Krag'wa's Shore
 [20-50] 

To Serve Krag'wa

 [20-50] 

Krag'wa's Chosen

&  [20-50] 

Vengeance of the Frogs
After helping Krag'wa against the blood troll threat (A Friend of Frog questline), the loa sends the Horde champion to Shadow Hunter Narez, who is scouting Krag'wa's Shore. There the adventurer learns that the naga are draining Krag'wa's spawns magic, and is asked to free the spawns and to kill the naga leader there (Zaldraxia).
In Zal'amak
At Sethrak Front
In Primal Wetlands
At Burial Mound
At Shoaljai Tar Pits
At the Terrace of Sorrows
 [20-50] 

Bwonsamdi's Deliverance

&  [20-50] 

Respecting the Rites

 [20-50] 

Bones for Protection

&  [20-50] 

Kel'vax's Home

 [20-50] 

The Fall of Kel'vax
Against Natha'vor
 [20-50] 

Profanity Filter

 [20-50] 

Killing Cannibals

,  [20-50] 

Just Say No to Cannibalism

&  [20-50] 

Shoak's on the Menu
One-offs