The Necropolis Catacombs[40, 37]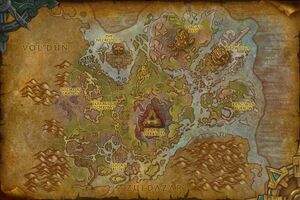 is an underground catacomb found under the Necropolis in Nazmir. It can be accessed from three entrances in the Court of Spirits. One side has Za'amar the Queen's Blade who protects the remains of a nameless queen, another side has Gee'dae the Cursed is trying to corrupt Valjabu, and the final side is cluttered by Reanimated Horrors.
There are several plaques in the catacombs, these are Tre'bah, Jah'nii, Sa'tiib, Zuteebe, Ray'zon, Ka'urt, Ki'mon, Kaymon, Don'ad, Kazerin, Kahti, Ju'ri, Jini'fur, Jo'shi, E'ban, Zah'ki, Michul'mon, Rav, Reiyon, Rah'chil, and Zarah. Given how most of the names are puns, it is probably a development team like in the Head Shop.
NPCs
Patch changes