For character biography, see Nefarian. For strategy on the Blackwing Lair encounter, see Nefarian (tactics).
Nefarian is the last boss of Blackwing Descent, a raid shipped with World of Warcraft: Cataclysm. He can be found in the Vault of the Shadowflame, where he resurrects his sister Onyxia, who makes up the first phase of the fight. Throughout the fight, Nefarian has several other undead adds as well.
Background
Adventure Guide
Deathwing's son, Nefarian, gained infamy for his horrifying efforts to create chromatic dragons from the essences of Azeroth's various dragonflights. After his death in Blackwing Lair, he was reanimated and charged by Deathwing to continue his insidious endeavors.
Abilities
  Electrocute  — Throughout the battle, Nefarian electrocutes the entire raid every time he loses 10% of his health. Electrocute generates a massive crackles of lightning that inflicts 72765 to 74235 (Heroic Mode: 128700 to 131300) Nature damage on all players.
Nefarian Enrages after 10 minutes and 30 seconds from the beginning of the Fight
  Berserk — Increases the caster's attack and Movement speed by 150% and all damage it deals by 500%.
Phase One: Rise Sister!
Nefarian reveals the undead form of his sister, Onyxia, and the two dragons attack the raid.
  Children of Deathwing  — Nefarian and Onyxia attack 100% faster when they are within 50 yards of each other.
Nefarian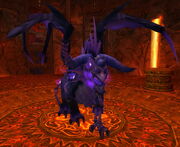 Phase Two: Curse You, Mortals!
When the players kill Onyxia, Nefarian takes to the air and fills the room with magma except for three platforms. Nefarian then summons a Chromatic Prototype upon each of the platforms.
Chromatic Prototype — A Chromatic Prototype appears on each platform. They stand in place and cast Blast Nova.

  Blast Nova  — Chromatic Prototypes cast Blast Nova, which inflicts 34800 to 45200 Fire damage every 2 sec. to all enemies.

  Shadowflame Barrage — While flying, Nefarian breathes a Shadowflame Barrage at random players, inflicting 16200 to 19800 Shadowflame damage.
  Explosive Cinders  — While flying, Nefarian occasionally targets random players with Explosive Cinders, coating them in explosive residue that inflicts 2000 Fire damage every 2 seconds.The residue detonates after 8 sec., inflicting 42750 to 47250 Fire damage to players within 10 yards.
Phase Three: You Simply Will Not Die!
After the players kill all the Chromatic Prototypes, the lava subsides, and Nefarian lands to finish the battle.
Strategy
Phase One
The encounter begins with an introductory event in which Nefarian (as Lord Victor Nefarius) resurrects Onyxia. He then turns into his dragon form and flies into the air, landing 30 seconds into the fight. Before Nefarian lands he will spawn 6/12 (10/25-man) Animated Bone Warriors which can be either kited, CC'd or tanked until they run out of energy and die on their own in this phase. Onyxia and Nefarian should be tanked on opposite sides of the room to remove their 100% haste buff Children of Deathwing. Onyxia should be damaged down to low health but not killed. This will give you some time to burn Nefarian's health down before the last phase. Onyxia will eventually hit full energy and instantly kill the raid, and every 10% of Nefarian's health adds 25% to her energy charge. You will generally have time to burn Nefarian down to sub-80% before killing Onyxia and ending the phase. Do not let either Dragon breathe on the Animated Bone Warriors as this will break CC, snares and roots and reset their energy to full.
Phase Two
The arena will fill with lava and three Chromatic Prototypes will spawn on each raised pillar of the room. They do not melee. They cast Blast Nova which must be interrupted.
Assign players to each of the three platforms for phase two. Each platform needs one reliable interrupt for 10-man and two reliable interrupts for 25-man (you will need interrupt rotations on 25). A ranged interrupter is helpful in the beginning of the phase on each platform while everyone is jumping up. You should try to damage Nefarian below 70% in this phase, survival cooldowns should be used to mitigate the electrocute at 70%. The phase will end after the Chromatic Prototypes die or after three minutes.
Phase Three
The lava will subside and Nefarian will land, stay spread out until Nefarian has stopped casting Shadowflame Barrage.
Phase Three is like phase one except Nefarian will now cast Shadowblaze Spark, it will always be targetted on the location of the Animated Bone Warriors. It will break CC, snares and roots on the Animated Bone Warriors and reset their energy to full just as the dragons' breath does.
Since Shadowblaze Spark is always targeted on the Bone Warriors, CC and roots are ineffective. You should have a tank kite the Bone Warriors away from Nefarian and continually move to avoid the Animated Bone Warriors ever regaining energy. They will die after 50 seconds and reset their empowering strikes stacks, this will allow the Bone Warrior tank to survive. Both tanks will need to use a survival cooldown to survive Electrocute every 10% of Nefarian's health.
The longer Nefarian takes to die the faster he will cast Shadowblaze Spark, until it is impossible to avoid and the raid dies.
Alternate Strategy
An alternate strategy for high DPS, low HPS composition groups, is to push through phase 1 and phase 2 very quickly (essentially nef is full health), then burn in phase 3.
In Phase 1, tank should continue as normal rotating the boss when needed. DPS should kite the bone warriors on top of the onyxia tank. This phase should last no longer than 2 minutes. As soon as onyxia is dead the bone warriors will all drop in a neat pile.
On Phase 2, blow a heroism/bloodlust/time warp and down these 3 casters asap. This phase also should last no longer than 2 minutes.
On Phase 3, it is business as usual. The add tank will stand next to the nice pile of bonewarriors and pick them up to kite ahead of the Nef tank. The Nef tank will slowly circle around in the same direction and the dps follows suit perpendicular to Nef.
Advantages - Less AOE healing in phase 1 and phase 2, reduced RNG factor.
Disadvantages - Phase 3 could take longer than usual causing a wipe as the spark mechanic will out run your add tank.
Loot
Related achievements
Quotes
Intro

Lord Victor Nefarius yells: Ha ha ha ha ha! The heroes have made it to the glorious finale. I take it you are in good spirits? Prepared for the final battle? Then gaze now upon my ultimate creation! RISE, SISTER!
Lord Victor Nefarius yells: Behold the Broodmother, Onyxia, REBORN! Perhaps my finest work.
Lord Victor Nefarius yells: My dearest sibling, do you hunger? THEN FEAST UPON OUR ENEMIES!
Aggro

See how the shadowflame animates their bones! They fight at my command!
Electrocute

The air crackles with electricity!
Phase 2

Curse you, mortals! Such a callous disregard for one's possessions must be met with extreme force!
Phase 3

I have tried to be an accommodating host, but you simply will not die! Time to throw all pretense aside and just... KILL YOU ALL!
Shadowblaze Spark

Flesh turns to ash!
Dominion

Mortal minds... So easily manipulated.
Explosive Cinders

I hope you can swim... in molten lava!
Killing a player
HAH!

It has been a pleasure!

You really have to want it!
Berserk

I thank you for coming, but you really all must die now!
Death

Defeat has never tasted so bitter...
Unused quote

Cowards! Face the brood mother or face DIRE consequences!
Videos
10-man Heroic
10-man Normal
25-man Normal
25-man Heroic
Trivia
Nefarian was the last boss of the entry tier of Cataclysm to be killed on normal mode, in part due to a respawn bug.
The world first kill on 10-man achieved on 13 December 2010 by Exorsus of Свежеватель Душ (Soulflayer) Europe, almost a week after the expansion's release.
World first heroic kill on 25-man achieved 9.1.2011 by DREAM Paragon of Lightning's Blade Europe.
Patch changes
External links

Icy Veins
 Comprehensive Nefarian guide (includes tank, healer, and DPS perspectives, and Heroic mode)
Raid final bosses

Bosses in grey were redesigned in a later expansion or removed from the game.