New Kargath

Type
Fortress
Leader(s)
Gorn
Race(s)
 Orc
Affiliation(s)
Horde
Location
Northwestern Badlands
Status
Active
Characteristics
Facilities

Stables

Anvil & Forge

Bank        Auctions
Travel
Flight Master(s)
Mass-transit
Portal(s)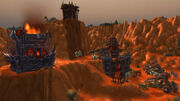 New Kargath, built atop Apocryphan's Rest near the shattered Ruins of Kargath, is the new Horde bastion within the Badlands, erected after the Cataclysm. It is a full-fledged town and appears to be under constant attack by members of the Black dragonflight, and its blacksmith is occupied by them.
The town is equipped with several catapults and blade throwers.
NPCs
Travel connections
New Kargath is a critical flight hub linking the northern and southern parts of the Eastern Kingdoms.
Flight
Patch changes
External links