Newstead

Type
Farmstead
Leader(s)
Huntmaster Theodore
  Formerly
Raider Zugg
Race(s)
 Human
 Draenei
  Formerly
 Orc
 Tauren
 Jungle troll
Faith(s)
Holy Light
Affiliation(s)
Stromgarde, Alliance (lore)
  Formerly
Horde
Location
Western Arathi Highlands
Status
Active
Newstead is a farmstead located in the road to Thoradin's Wall, in western Arathi Highlands. As a contested foothold in the Battle for Stromgarde, control of it provides the player's faction access to cavalry warfare.
As the canonical ending to the Warfront was the Alliance victory,[1] Newstead should be under Alliance control.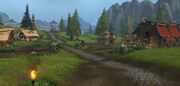 NPCs
Alliance NPCs
Horde NPCs
Other NPCs
Hostile mobs
Notes
References