This article is about the Legion Collector's Edition pet. For the ground squirrel, see Nibbles (ground squirrel). For the spider critter in Stormshield, see Nibbles (spider).
Nibbles
Use: Teaches you how to summon this companion.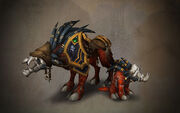 Nibbles is the battle pet from the Digital Deluxe Edition and Collector's Edition of World of Warcraft: Legion.
Obtaining this will reward the

 [Collector's Edition: Nibbles] feat of strength.
Pet Journal
This young stalker was easily swayed from Sargeras' grasp by a handful of [Magical Mini-Treats].
Battles
Notes
Patch changes
External links
Battle pet types
Critter battle pets