Nibelung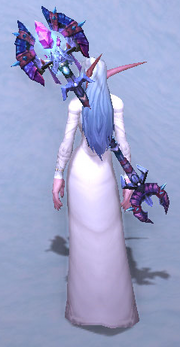 Nibelung drops from Lady Deathwhisper in the 25-man version of Icecrown Citadel.
Trivia
The Nibelungs in Norse mythology were the royal family of the Burgundians, said to hold a massive treasure hoard. The association of the Nibelungs with the Norse mythical Valkyrie comes from Richard Wagner's four-opera cycle Der Ring des Nibelungen, which is based on the 12th century German epic poem Nibelunglied and various Norse sagas. In the operas, the Nibelung are a race of dwarves.
The effect portion of the staff could be seen as a slight reference to the Valkyrie Profile games by Square-Enix as Nibelung Valesti was the signature finishing move of the series' most memorable characters; Lenneth, Hrist, and Silmeria Valkyrie.
Notes
While they will not attack on their own, the val'kyr that are summoned can aggro enemies, so keep an eye on them.
Jergosh the Invoker wields a staff with this same model.
Patches and hotfixes
Other versions
External links