For other uses, see Nightfall.
Nightfall
Item Level

58

Axe
Speed 3.60
26 – 56 Damage
(11.4 damage per second)
Chance on hit: Spell damage taken by target increased by 15% for 5 sec. Chance to fail for targets above level 60.
Durability 120 / 120
Requires Level 60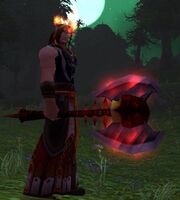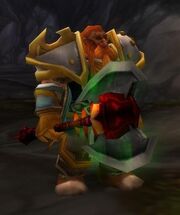 Nightfall is crafted with Blacksmithing (300); taught by

 [Plans: Nightfall].
Notes
For a time, this weapon was still popular, even among level 70s, as it was one of the few ways that an offtank could contribute significant raid DPS while in tank gear. Warriors would tend to use it with

[Hamstring] to generate procs, while paladins would use it with

[Seal of the Crusader]. Since Patch 2.4.2, it no longer generates significant DPS at level 70.
Patch changes
External links