This article's name is unofficial.

Please note that while the content is valid, this article's name is not official.
This is because no official name is available for the subject of this article. We use a descriptive name instead.
This article should not be moved unless discussed first - Remember to follow the naming policy.
This article is about the dragons serving the Emerald Nightmare. For the raid encounter, see Dragons of Nightmare. For the old world bosses, see Dragons of Nightmare (Classic).
Nightmare dragons are members of the green dragonflight corrupted by the Emerald Nightmare. Some of them were encountered in Val'sharah.[1]
Background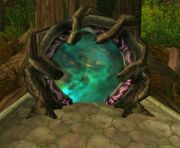 This section concerns content related to the original World of Warcraft.
Prior to the start of the invasion of Outland, Ysera's most trusted lieutenants were warped by a dark new power within the Emerald Dream. These wayward sentinels passed through the Great Trees into Azeroth, intending to spread madness and terror throughout the mortal kingdoms:
Lethon and Emeriss were killed during the War Against the Nightmare, respectively by the redeemed Eranikus and Tyrande Whisperwind. Ysondre was later freed of her insanity and, after aiding adventurers in killing Taerar, set about living a peaceful life among mortals, hopefully for the rest of her days.[2][3]
Legion

This section concerns content related to Legion.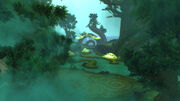 The great matron of the Green dragonflight, Ysera, was corrupted by Xavius and the power of the Tears of Elune. The World Tree Shaladrassil got corrupted by the Nightmare, engulfing its guardians Nythendra and Dresaron, as well as other Green dragons Rothos and Shar'thos. Besides their minds, their forms were also warped by the shadow invading Val'sharah.
Ysondre was drawn back into the Nightmare and nightmares of her former comrades had joined her, completely consuming the Emerald Dreamway in shadows. Ysondre was ultimately slain, but her spirit and the spirits of her comrades were seen in the restored Emerald Dream after Xavius was defeated.
Notable members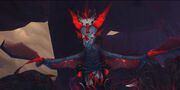 Dragons
Drakes
Whelps
As a companion pet
Notes
Gallery
References
^ Blizzcon 2015 - World of Warcraft Legion - World and Content Overview (24:23). YouTube (2016-02-24). Retrieved on 2019-09-20.
^  [15-30] 

Ysondre's Farewell

^  [15-30] 

Taerar's Fall
Primary dragonflights
Other dragonflights
Groups