Objectives
Eliminate 10 Restless Stones.
Description
The workers are complaining about elementals coming into the area while they're digging for treasure.
Just this morning, I had two people crushed to death! It's slowing down the hunt!
You can earn your share by getting rid of those elementals!
Rewards
You will receive:
Progress
Do what I say, we'll get along a lot better!
Completion
I almost trust you <race>.
Notes
Pick up all of

 [35-50] Anchors Aweigh Too Much,

 [35-50] Fun With Magnets and

 [35-50] Bomb Beats Rock before heading out.
While out and about, look for Crushtacean at [51.2, 55.4]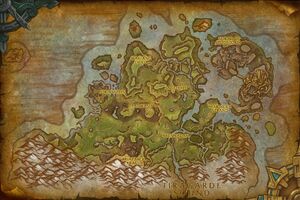 in a cave off on the eastern side of the quest area. It drops the

 [Bonesplinter Band] and some

[Azerite].
Ship parts and restless stones carpet the area.
Progression
Optional breadcrumb from Eckhart Lodge:

 [35-50] Reloading
Outbound breadcrumb to Seabreeze Village:

 [35-50] Helping Out, Somewhere Else →
Patch changes
External links