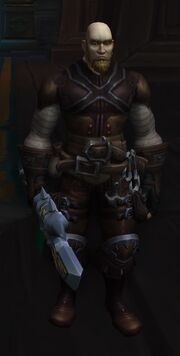 Notley is an Inquisitor of the Order of Embers.
Quotes
On-click
Greetings
Hello!
Lovely day for some witch-hunting, isn't it?
Say "hi", Winston!
Pissed
Don't you know about the bird?
Everybody knows that the bird is the word.
But the bird bird bird bird, b-b-bird's the word, bird bird bird bird, the bird is the word.
Farewell
Happy hunting!
Be seeing you.
Who's a good bird?
Gossip
At Arom's Stand

A fine specimen, isn't he? The House Waycrest has long been known as experts in the arts of falconry.
Unfortunately, most of our best birds have fallen under the curse of the coven. Winston here is one of only a handful of Waycrest falcons not under their spell.
It is truly a sad state of affairs.
Oh, hello <class>.
Don't worry about this, it's just a minor wound. That is, unless Mace turns it into a major one with her "first aid".
What can I do for you?
At the Corlain Aviary

The falcons of House Waycrest are the finest in all of Kul Tiras. We must not let them fall to the coven's magic.
Objective of
Trivia
Patch changes
External links