This article's name is unofficial.

Please note that while the content is valid, this article's name is not official.
This is because no official name is available for the subject of this article. We use a descriptive name instead.
This article should not be moved unless discussed first - Remember to follow the naming policy.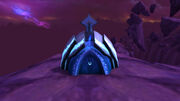 In the Netherstorm at the edge of the Crumbling Waste, south of Arklon Ruins and west of Manaforge Coruu, is a small blue shrine only reachable by flying mount.[40.9, 82.7]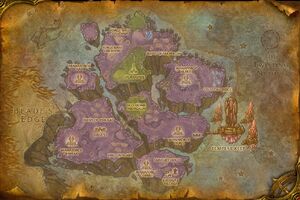 The shrine is a futuristic-looking draenei tombstone surrounded by pink crystals. On the tomb flashes the letters N, O, V, and A, spelling out the name of the playable character from the discontinued Blizzard game StarCraft: Ghost. Under certain conditions, you can see her ghost kneeling at the monument. If you listen closely, you can hear "StarCraft" music playing by the monument.
Gallery