Objectives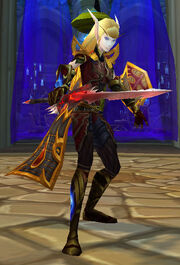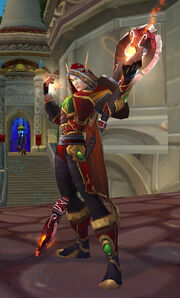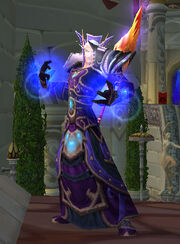 Slay 16 Sunreavers in the Sunreaver's Sanctuary.
Sunreaver slain in Sunreaver's Sanctuary x16
Description
The Sunreaver's Sanctuary is still crawling with those Horde-loving Sunreavers.
Jaina will have sent the reasonable ones to the Violet Hold. The rest refuse to leave, raising their weapons against us.
Show them the cost of their defiance. They now face the judgment of the Alliance, the Silver Covenant, and the Kirin Tor!
Rewards
Progress
Slay them all!
Completion
This is a bloody day, <name>, and this is bloody work.
But do not forget what the Sunreavers did to bring this on: They used neutral Kirin Tor resources to aid the Horde in their fight against the Alliance.
Do not hesitate to believe that they would do the same to us, given the chance.
Gains
Notes
Pick up all of

 [15-35] Nowhere to Run,

 [15-35] Sewer Cleaning,

 [15-35] Unfair Trade, and

 [15-35] Cashing Out before heading out. Don't worry about the Displaced Sunreavers--while hostile, they won't actively attack and Jaina merely teleports them away when she finds them.
The Magus Commerce Exchange is closest, so head there first. Inkmaster Aelon is in the Scribe's Sacellum. Exit and take the southern entrance of the loop to reach Talismanic Textiles, where Sintharia Cinderweave is holed up. Two shops north is the engineering shop Like Clockwork, where Gearmage Astalon can be found. Finally, head two shops east to find Tolyria in the blacksmithing shop, the Forge of Fate.
Commerce exchange cleaned out, head north to the Bank of Dalaran to find Magister Brasael. Take him out, then exit the bank, take a left to head southeast, then a left again to enter the Sunreaver's Sanctuary. Start killing Sunreaver Aegises, Sunreaver Captains, Sunreaver Mages, and Sunreaver Summoners, ret paladins, warriors, fire mages, and frost mages, respectively.
Once the quota of kills has been met, exit the Sanctuary and keep heading southeast to reach Krasus' Landing. Weaken dragonhawks to beneath 35% health and use the

 [Enchanted Sleeping Dust] to knock them out. Or kill them, whichever works.
Finally, exit the landing and immediately take a left to take the southeastern entrance to the Underbelly. Start killing Sunreaver Assassins, Sunreaver Duelists, Sunreaver Frosthands, and Sunreaver Pyromancers.
Progression
Patch changes
External links