Off-Duty Cadet
Not to be confused with "Off-Duty" Cadet.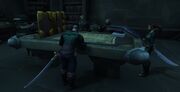 Off-Duty Cadets are humans located at the Proudmoore Keep in Boralus. A few of them can be found in a hidden basement in the hedge maze of the keep, playing a pen & paper game while their taskmaster is looking for them.
Quotes
Role-playing
I cast Frostbolt into the darkness!

I loot the candle.

No, the tree is not vulnerable to fire attacks.

It would be easier to heal you if you didn't stand in the fire all the time.

Stop antagonizing the quest giver!

Don't spill your ale on my character sheet!

Can the guard see me looting this body?

I...uhhh...well, misplaced it. Could I get another copy, please?

Thank you. I promise I will deliver it this time!
Combat
Avast, invader!

For Kul Tiras!

I die... for my house...

I'll rake ye from stem to stern!

I'm going down... with the ship...

I've been scuttled, boys...

Kul Tiras stands...

Let's test yer mettle!

Scurvy dog!

Send me bones... to the sea...
Patch changes
External links