The subject of this article was removed in patch 4.0.3a but remains in World of Warcraft: Classic.

This includes items and quests that can no longer be obtained or are now deprecated.
The categories should reflect this, and should not include retail realm categories.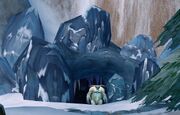 Old Icebeard was an elite wendigo mob found in a cave Chill Breeze Valley in Dun Morogh. With him was a meat locker he had stolen from Tundra MacGrann. However, Old Icebeard would periodically walk outside, leaving the cave—and the stolen meats—unguarded for a short time.
Abilities
  Daunting Growl — Reduces nearby enemies' Strength by 4 and Agility by 4 for 30 sec.
  Icy Grasp — Reduces an enemy's movement speed by 50% for 5 sec.
Objective of
Notable drops
Trivia
Patch changes
External links