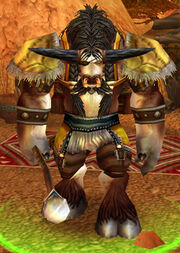 Omusa Thunderhorn was a tauren wind rider flight master located in Camp Taurajo in the Barrens.
During the Alliance attack on Camp Taurajo, Omusa stayed behind with his wyverns to cover the escape of those fleeing the camp, and was killed. During

 [10-30] Honoring the Dead, his spirit is summoned and put to rest.
Quotes
After using
 [Funerary Totem] on his body:
Omusa's Spirit says: No, stay with the others. Escort them north, away from the fighting. I will stay here with the wyverns and cover your escape. Go!
Omusa's Spirit says: ...wait, it is over? I've been run through ... Ah. Of course. I understand now. I am expected elsewhere.
Gossip
Many are the paths of the Earth Mother. Wherever you decide to travel, may she watch over you.
Though the Crossroads seems to be the center of activity in The Barrens, I prefer the quietude of Camp Taurajo. Where shall I send you?
Treat the wind rider well as it takes you to your destination. May your ancestors watch over you <name>.
Where can I send you today <class>?
Patch changes
See also
External links