The subject of this article was removed in patch 3.2.2 but remains in World of Warcraft: Classic.

This includes items and quests that can no longer be obtained or are now deprecated.
The categories should reflect this, and should not include retail realm categories.
This article is about the original 40-man version of Onyxia's Lair. For the 10 and 25-player versions of the raid introduced in patch 3.2.2, see Onyxia's Lair.
Onyxia's Lair
Onyxia / Ony / Onx / OL[1]



Onyxia's Lair loading screen

Location
Wyrmbog, Dustwallow Marsh
Race(s)
 Black dragonflight
End boss
Onyxia
Instance info
Type
Raid
Advised level
60
Player limit
40
Onyxia's Lair was a level 60, 40-man raid dungeon located in Dustwallow Marsh, home to Onyxia.
The original incarnation of the instance was one of two raid dungeons available upon release of World of Warcraft, the other being Molten Core. In patch 3.2.2 the instance was retuned as a raid dungeon for level 80 players in honor of the World of Warcraft 5-year anniversary. The original 40-man version is no longer accessible. Players who had completed it obtained

 [Onyxia's Lair (Level 60)] for their efforts upon the revamp.
Gaining entry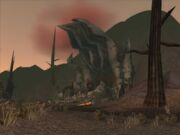 Main article: Onyxia's Lair Attunement
Prior to patch 3.0.2, a

 [Drakefire Amulet] was required to enter Onyxia's Lair.
Loot
Main article: Onyxia's Lair loot (Classic)
Notable among Onyxia's loot were the tier 2 headpieces.
Dungeon denizens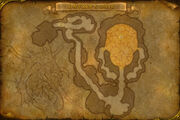 Mobs
Boss
Trash mobs
Trivia
Patch changes
External links