The subject of this article was removed from World of Warcraft in patch 3.2.2 but is present in World of Warcraft: Classic.

The subject of this article does not exist on the retail realms anymore.
The categories should reflect this, and should not include retail realm categories.
Onyxia Hide Backpack
18 Slot Bag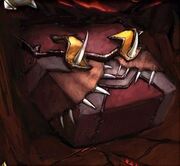 The Onyxia Hide Backpack dropped from the Level 60 version of Onyxia in Onyxia's Lair.
Patch changes
See also
External links
18 slot bags
20 slot bags
22 slot bags
24 slot bags
26 slot bags
28 slot bags
30 slot bags
32 slot bags
34 slot bags