For the quest, see   [1-20] 

Oomlot Village

.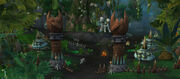 Oomlot Village is a pygmy village located east of Town-In-A-Box and northeast of Ruins of Vashj'elan, located on Lost Isles. Inside, pygmy witch doctors are turning the Town-In-A-Box villagers into goblin zombies.
Inhabitants
Just outside
Notes and trivia
Having no time to escape the pygmies are killed and the village is destroyed by the fires that came from the tunnel which leads to Volcanoth's Lair.
The name of the village may derive from the umlauts used in heavy metal band names. The pygmies seem to have heavy metal aesthetics.
Patch changes
External links