Orb of the Sin'dorei
Toy
Use: Adds this toy to your Toy Box.

Disguises the user as a blood elf.
Requires Level 70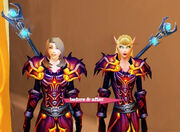 The Orb of the Sin'dorei is a toy that temporarily disguises the user as a Blood Elf. The gender of the disguise matches that of the user, and some other character attributes, such as hairstyle and skin color, cause consistent variations in the Blood Elf model used. Additionally, the user's own gear is still displayed. In contrast, the
 [Orb of Deception]'s model is affected by the user's gender, weapon, and race, but does not reflect character customizations and armor.
Sources
Dropped in Heroic mode Magisters' Terrace by:
Notes
Patch changes
Patch 6.0.2 (2014-10-14): Added to the Toy Box. Once again reflects the character customizations of the user.

Patch 5.0.4 (2012-08-28): No longer varies the Blood Elf model according to the user. Only matches the user's gender.

Patch 2.4.0 (2008-03-25): Added.

References
External links
Non consumed player-transforming items

Vendor
Drops

 

[

Orb of the Sin'dorei

]

Treasure
Quests
Profession
Event
Other