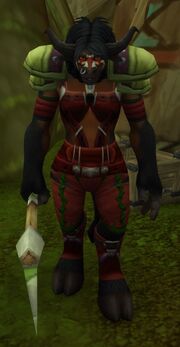 Orgrimmar Braves are tauren guards tasked with protecting the Valley of Wisdom in Orgrimmar.
After the death of Vol'jin, several braves commented on the recent events.
This section concerns content related to Battle for Azeroth.
They appear in the Vision of Orgrimmar.
Abilities
  Backhand — Backhands an enemy, stunning it for 2 sec. 
  Strike — Strikes at an enemy, inflicting weapon damage plus additional damage. 
Quotes
On approach during Vol'jin's funeral
When our journey ends, it is only the beginning.

The Legion will pay for their crimes.

May the Earth Mother watch over him.

Blessings be upon him.
After the War Campaign - About Saurfang

Main article: Battle at the Gates of Orgrimmar#A shaman's story
Patch changes
External links