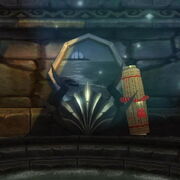 Origins is a wood-panel scroll located at [30.5, 38.6]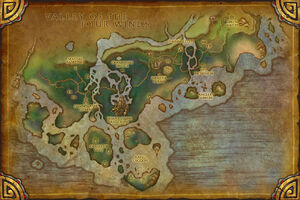 in central Fallsong Village in the Krasarang Wilds.
Interacting with the scroll is one of the requirements of the Pandaria exploration achievement

 [Fish Tales].
Content
Origins
This early jinyu shrine may provide some insight to the origins of the race. Depicted is a collection of squat, primitive aquatic creatures. They surround a series of pools on a field of gold - perhaps a rendering the Vale of Eternal Blossoms.
One of the primitive creatures holds a staff aloft beside the waters, but the symbols that surround his head are of an unknown language that likely predates the first mogu dynasty.
The exact connection between these early aquatic creatures and the Vale remains unclear.
Patch changes
External links