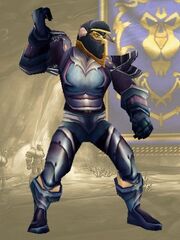 The Ornate Mithril Helm was originally created by the Mithril Order and can be made by Blacksmiths that are training to be Armorsmiths.
Source
This item is crafted with Blacksmithing (245); taught once by

 [45] A Good Head On Your Shoulders.
As a quest objective
The subject of this section was removed from World of Warcraft in patch 4.0.1.
External links