Orophea is a soul located at the western end of Ruin's Cradle in the Maw.
When Orophea is active, head east into Ruin's Cradle, loot Eurydea's Amulet from Eurydea's Necklace at [26.8, 29.3]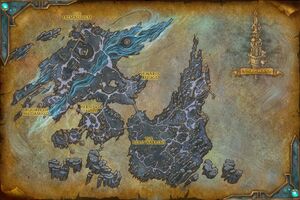 , then return to the rare and use the bonus ability between casts. Orophea puts out four blasts, then pauses for a few seconds.
Orophea yells: Is it you? My beautiful Eurydea... I promise not to turn around this time.
Orophea yells: Wait... you are not her. Impostor!
Killing Orophea awards 80 points of standing with Ve'nari, roughly 50

[Stygia], and 300 points of threat (30% of a level) of Eye of the Jailer. Orophea may also drop
 [Orophea's Lyre],
 [Pantaloons of the Condemned Bard], and

 [Fallen Adventurer's Cache].
Abilities
Criteria of
The subject of this section did not make it out of the beta stages.
There was a cut daily quest to soothe Orophea.
Trivia
Patch changes
External links