Outcast Dreamcatcher
Outcast Dreamcatcher
Use: Carefully crate the restored artifact.
"Artifact details have already been logged in your Archaeology Journal, under the Completed Artifacts tab."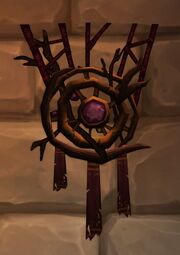 Outcast Dreamcatcher is a common arakkoa archaeology artifact, created from 45

[Arakkoa Archaeology Fragment]. One
 [Arakkoa Cipher] may be used to solve this artifact.
Description
Outcast Arakkoa have repurposed the dreamcatcher not to ward off the Curse of Sethe, but to capture and harvest tiny amounts of essences from their lost gods. Rumors persist of an ever-growing mass of swirling energy buried deep beneath Skettis, whispering promises of power to any who will listen...
Patch changes
External links