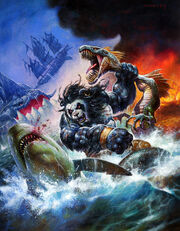 Over Water is a short story by Ryan Quinn that is featured on the official site.
Description
A veteran Alliance soldier is rescued from the ocean (and certain death) by a group of pandaren, but quickly realizes that he's fallen in with a group of Anglers. Between their obsession with hunting big fish and their fascination with even bigger tall tales, the soldier is in for quite a ride.
Characters
Locations
External links

World of Warcraft Community Site
 Faction Stories: Over Water
Type
Binding
& format
Short story books

---

The following texts were not published as short stories but rather published on the official Blizzard websites as blog posts split into several parts. However, they are included here for completeness' sake.