Owen's Wishing Well[39, 7]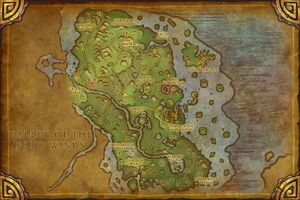 is a small wishing well found inside the Tideview Thicket high on a bluff overlooking Jade Forest's north-central coast.
The pond is surrounded by Wishing Frogs, and clicking on a nearby Lucky Golden Goin gives the buff Made-a-Wish. Inside the well is also
 [Wodin's Mantid Shanker].
Trivia
An uninteractable bird is sitting on the rim, next to food. There's also an empty carriage in front of the well.
The location is a reference to Brian "Owen" Wicks[1] who visited the Blizzard Entertainment headquarters in Irvine, California on February 24, 2012 through the Make-A-Wish foundation.[2]
Patch changes
References
External links