For the Twilight Highlands quest, see  [30-35] 

Paint it Black

.
Paint it Black

Start
Jarvi Shadowstep [37.4, 44.0]
End
Jarvi Shadowstep [37.4, 44.0]
Level
1-30 (Requires 1)
Category
Chill Breeze Valley
Experience
450
Reputation
+250 Gnomeregan
Rewards
1 (or 2 70 at max level)
Previous
  [1-30] 

Staging in Brewnall

Next
  [1-30] 

Down with Crushcog!
Objectives
Use the Paintinator to blind 5 of Crushcog's Sentry-Bots.
Provided item:

 [Paintinator]
Description
We have reliable intelligence that Razlo Crushcog has taken up a defense position on the island in the middle of frozen Iceflow Lake. To make matters worse, he's surrounded himself with a network of sentry-bots that will detect any possible intruders.
If we're to take on Crushcog, we'll need to take out those sentries. This device launches a dark, sticky paint that will coat the optical sensors of Crushcog's sentry-bots. Use it to take out his early warning system.
Rewards
You will receive: 1

(or 2

70

at max level)
Progress
Were you able to blind Crushcog's sentries?
Completion
You've given us just the opening we'll need to get the drop on Crushcog. Excellent work, <name>.
Notes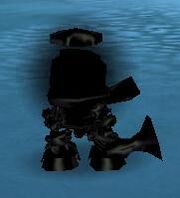 Run east onto the lake and take out five sentry-bots.
Trivia
The name of this quest is likely a reference to the Rolling Stones song "Paint it Black"
Progression
Patch changes
External links