Panda Collar
Use: Teaches you how to summon this companion.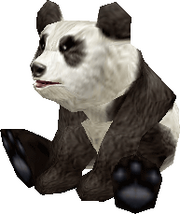 Panda Collar teaches Panda Cub, a panda companion.
Source
This item is available only to people who bought the Collector's Edition of World of Warcraft. Players will receive the item, along with the
 [Zergling Leash] and

 [Diablo Stone], through the mail when logging on for the first time.
It used to be rewarded from the quest Welcome!
Pet Journal
This pint-sized panda cub is highly sought after by adventurers around Azeroth - despite its narcoleptic nature.
Battles
Notes and trivia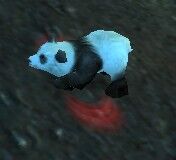 As its idle animation, it will occasionally fall asleep. When it wakes up it performs an animation like the warrior's

[

Battle Shout

]

.
In the Asian regions, this pet is part of the Subscription and mount bundle for the

[

Steamscale Incinerator

]

.[1]
Patch changes
Patch 4.0.6 (2011-02-08): No longer rewarded from the quest Welcome!, it is now mailed to players.

Patch 3.0.3 (2008-11-04): Now Binds to Account, rather than Binds on Pickup.

References
External links
Battle pet types
Beast battle pets

Archetype of Cunning

Archetype of Discovery

Archetype of Predation

Bloodfeaster Spiderling

Blushing Spiderling

Copperfur Kit

Corpulent Bonetusk

Goldenpaw Kit

Green Viperid

King Viperid

Momma Vombata

Panda Cub

Red Viperid

Rosetipped Spiderling

Ruby Baubleworm

Rustfur Kit

Sable

Tarachnid Ambusher

Tarachnid Stalker

Topaz Baubleworm

Tunneling Vombata

Turquoise Baubleworm

Verdant Kit

Viperid Menace

Vombata Pup