Pandaren Game Board
Use: Carefully crate the restored artifact.
"Artifact details have already been logged in your Archaeology Journal, under the Completed Artifacts tab."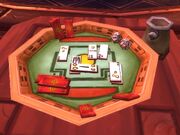 The Pandaren Game Board is a common pandaren archaeology artifact, created from 40x

[Pandaren Archaeology Fragment]. A pristine version can also be crafted.
Description
Pandaren love games. This game in particular has been a favorite among the Pandaren since the time of the first Pandaren emperor. This is a fine example of an ancient set.
Patch changes
See also
External links