Pandaren Tea Set
Use: Carefully crate the restored artifact.
"Artifact details have already been logged in your Archaeology Journal, under the Completed Artifacts tab."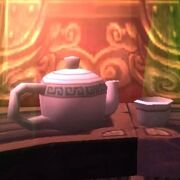 The Pandaren Tea Set is a common pandaren archaeology artifact, created from 50x

[Pandaren Archaeology Fragment]. Up to one
 [Pandaren Pottery Shard] may be used to solve this artifact. A pristine version can also be crafted.
Description
The Pandaren have a rich history of tea. While much care is given to its brewing, the secrets to properly enjoying tea have always been equally valued. This simple tea set was made during the reign of the Mogu, and provided solace and respite to the owner during a time of great pain and tyranny. Although it is cracked and broken, it serves as a reminder to take comfort in the simple pleasures of life.
Patch changes
External links