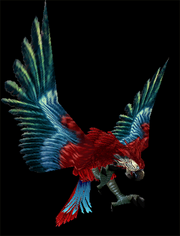 Parrot Cage (Green Wing Macaw) teaches you how to summon Green Wing Macaw, a parrot companion.
Source
This item drops from Defias Pirates in The Deadmines.
It can also be listed on the Black Market Auction House by Breanni, with the opening bid of 1,000

.
Pet Journal
Favored pet of the Defias pirates, this colorful bird is handy for remembering passwords, grocery lists, and cracker recipes.
Battles
External links
Battle pet types
Flying battle pets

Archetype of Malice

Archetype of Motion

Archetype of Satisfaction

Battie

Bloodsucker Vespoid

Dusty Sporeflutterer

Enraged Poultrid

Fluttering Glimmerfly

Foulwing Buzzer

Fuzzy Shimmermoth

Gilded Wader

Helpful Glimmerfly

Larion Pouncer

Multichicken

Necroray Spawnling

Pearlwing Heron

Scarlet Proto Avian

Sinfall Screecher

Stony

Vibrant Glimmerfly

Wader Chick

Wild Etherwyrm